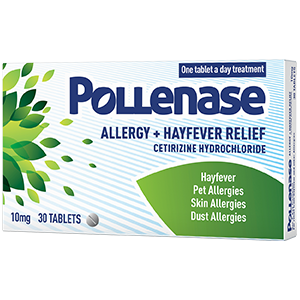 Pollenase Cetirizine Hydrochloride Tablets
Pollenase Allergy & Hayfever Relief Tablets
Pollenase Allergy & Hayfever Relief Tablets are a One tablet a Day treatment that provide relief from the symptoms of :
- Hay fever
- Pet allergies
- Skin allergies
- Dust allergies
Pollenase Allergy & Hayfever Relief Tablets contain cetirizine hydrochloride. This is an antihistamine drug which can help relieve symptoms of hay fever (seasonal allergic rhinitis), year round allergies such as dust or pet allergies (perennial allergic rhinitis) and urticaria (swelling, redness and itchiness of the skin).
Antihistamines such as Pollenase Allergy & Hayfever Relief Tablets relieve the unpleasant symptoms and discomfort associated with these conditions such as sneezing, irritated, runny and blocked up nose ,itchy, red and watering eyes and skin rashes.
Please read the full product information leaflet before using the product
Always use Pollenase Allergy & Hayfever Relief Tablets (Cetrizine Hydrochloride) exactly as described in the product information leaflet or as your doctor or pharmacist has told you. Check with your doctor or pharmacist if you are not sure
For oral use only. Tablets should be taken with a drink of water.
Adults and children over 12 years
One tablet (10mg) once daily.
Children aged 6 to 12 years
Half a tablet (5g) twice daily.
Children under 6 years of age
Not to be used
…………………………………………………………………………………………………………………………………………………………….
If your symptoms do not go away within a few days, consult your doctor or pharmacist.
………………………………………………………………………………………………………………………………………………………
The active ingredient is cetirizine hydrchloride and each tablet contains 10mg.
They also contain: lactose, microcrystalline cellulose, maize starch, colloidal anhydrous silica, magnesium stearate, talc, hypromellose, titanium dioxide (E171), macrogol 4000 and sodium citrate
Keep out of the sight and reach of children.
Do not use this medicine after the expiry date which is stated on the carton. Do not store above 25◦C. Keep the tablets in the original package in order to protect from moisture
For oral use only.
Pollenase Allergy & Hayfever Relief Tablets contain Cetirizine Hydrochloride. Always read the label.
Do not use if sensitive to any of the ingredients
Do not use of you are pregnant or breastfeeding without first consulting a doctor or pharmacist
These tablets do not normally cause drowsiness at the recommended dose. However individuals react differently, so if affected, you should not drive or operate machinery