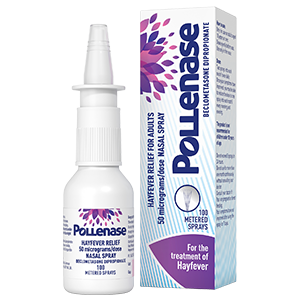 Pollenase Allergy Relief Nasal Spray
Pollenase Allergy Relief Nasal Spray provides relief from the nasal symptoms of seasonal allergic rhinitis, more commonly known as hay fever, in adults. These symptoms include a runny or blocked nose, an itchy nose, sinus discomfort and sneezing.
Pollenase Allergy Relief Nasal Spray contains beclometasone dipropionate, which is a steroid. It works by inhibiting the release of histamine (the chemical in the body that triggers an allergic reaction). This helps to reduce the inflammation in your nose which may be the cause of your symptoms.
Always use Pollenase Allergy Relief Nasal Spray exactly as described in the product information leaflet or as your doctor or pharmacist has told you. Check with your doctor or pharmacist if you are not sure 
Adults aged 18 years or over                                                                                                
Two sprays into each nostril twice a day. The maximum daily dose is a total of eight sprays.
This medicine should not be used by children or adolescents under 18  years of age.                                                   ……………………………………………………………………………………………………………………………
Use your nasal spray regularly for maximum relief .  If your symptoms have not improved after 7 days, consult your doctor or pharmacist. Do not use this product continuously for more than 3 months without consulting your doctor or pharmacist            ………………………………………………………………………………………………………………………………………………………
How to apply Pollenase Allergy Relief Nasal Spray.   
Remove the dust cap. Shake the bottle gently.
On first using the nasal spray prepare for use by pressing down on the white collar using both your index and middle fingers. Keep the base supported with your thumb.  Continue to press down until the collar stops then allow it to return to its original position. Repeat this action until a fine spray appears. First five attempts to produce a spray should be allowed to go to waste. Now the spray is ready to use.
To use the spray, first blow your nose gently. Closing one nostril off, bend your head forward slightly. Hold the bottle upright and carefully insert the applicator into the other nostril. 
Slowly begin to breathe in through your nose and whilst doing so press down firmly on the white collar to produce a fine spray inside your nose. Breathe out through your mouth. 
Repeat step 3 and 4 to squirt a second spray in the same nostril. Wash the nozzle frequently with warm water. This will prevent it from getting blocked. If the pump has not been used for a shorty period of time, re-priming may be necessary (see step 2 above) 
The active ingredient is beclometasone dipropionate and each spray contains 50 micrograms.
The other ingredients are dextrose anhydrous, polysorbate 80, dispersible cellulose, benzalkonium chloride 95%, phenylethanol and purified water.
Keep out of the sight and reach of children.
Do not use this medicine after the expiry date which is stated on the bottle label and carton.
Discard 3 months after first opening
Store below 25◦C. Do not refrigerate. Protect from light.
Use this medicine only in your nose.
Pollenase Allergy Relief Nasal Spray contains Beclometasone Dipropionate. Always read the label.
Do not use if sensitive to any of the ingredients
Do not use if pregnant or breastfeeding without consulting your doctor or pharmacist