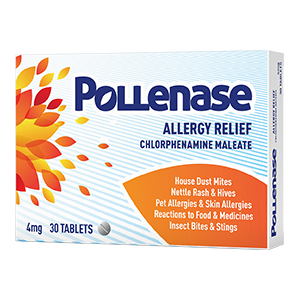 Pollenase Tablets – Chlorphenamine Maleate
Pollenase Tablets (Chlorphenamine Maleate) provide relief from the symptoms of
- hay fever and other allergies such as :
- House dust mites
- Pet allergies
- Nettle rash and hives
- Skin allergies
- Reaction to food or medicines
- Insect bites and stings.
Pollenase Tablets contain chlorphenamine maleate. This is an antihistamine drug which can help relieve symptoms such as itchiness, redness, swelling and tenderness.
Please read the full product information leaflet before using the product
Always use Pollenase Tablets (Chlorphenamine Maleats) exactly as described in the product information leaflet or as your doctor or pharmacist has told you. Check with your doctor or pharmacist if you are not sure  
For oral use only.  Tablets should be taken with a drink of water.
Adults and children over 12 years
One tablet every 4 to 6 hours as required. Maximum daily dose : 6 tablets (24mg) in any 24 hour period
Elderly
The elderly are more likely to experience side effects such as confusion . You may need to take a lower dose eg: a maximum of 3 tablets (12mg) in any 24 hour period (one tablet every 4 to 6 hours).
Children aged 6 to 12 years
Half a tablet every 4 to 6 hours. Maximum daily dose : 6 half tablets (12mg) in any 24 hour period.
Children under 6 years
Not to be used                                                                                                                                                                                                             …………………………………………………………………………………………………………………………………………………………….
If your symptoms do not go away, consult your doctor or pharmacist.
………………………………………………………………………………………………………………………………………………………
The active ingredient is chlorphenamine maleate and each tablet contains 4mg.
The other ingredients are lactose monohydrate, starch, magnesium stearate and a colour, quinolone yellow (E104).
Keep out of the sight and reach of children.
Do not use this medicine after the expiry date which is stated on the carton.
Do not store above 25◦C.
Keep the tablets in the original package in order to protect from moisture
For oral use only.
Pollenase Tablets contain Chlorphenamine Maleate. Always read the label.
Do not use if sensitive to any of the ingredients
Do not use if pregnant or breastfeeding
These tablets may cause drowsiness. If you are affected you should not drive or operate machinery