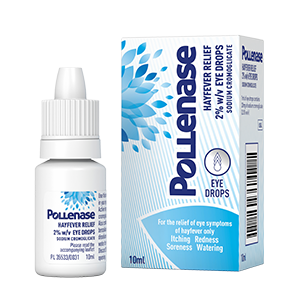 Pollenase-Hayfever-Relief-Eye-Drops
Pollenase Hayfever Relief Eye Drops provide relief from the eye symptoms of hay fever including itchy, red, sore and watery eyes.
Symptoms occur usually in the spring, summer and early autumn when pollen from grass, trees weeds and flowers is released into the atmosphere.
Pollenase Hayfever Relief Eye Drops contain sodium cromoglicate, which belongs to a group of medicines called anti-allergics. It works by stopping your body from releasing the natural chemical (histamine) in your eyes which can lead to an allergic reaction.
This condition is sometimes called "hayfever eyes" or by its medical term seasonal allergic conjunctivitis.
Please read the full product information leaflet before using the product
Always use Pollenase Hayfever Relief Eye Drops exactly as described in the product information leaflet or as your doctor or pharmacist has told you. Check with your doctor or pharmacist if you are not sure 
Adults (including the elderly) and Children over 6 years
One or two drops to be administered into each eye four-times daily
Children under 6 years
This medicine should not be used in children under 6 years of age.
If you have any question concerning the use of these drops in a child or are unsure if the child has allergic eyes, you should seek advice from your doctor or pharmacist.
…………………………………………………………………………………………………………………………………………………………….
If your eyes are no better after 2 days of using the eye drops, see your doctor or pharmacist
…………………………………………………………………………………………………………………………………………………………….
It is best to use your eye drops regularly every day while high pollen levels are expected, to keep your eye condition controlled. If you find you need to use them continuously for more than 14 days, check with your pharmacist or doctor before continuing.
……………………………………………………………………………………………………………………………………………………
How to apply Pollenase Hayfever Relief Eye Drops. 
– Remove contact lenses before use.
– Wash your hands
– Before using the medication for the first time, be sure that the tamper-proof seal on the bottle neck is unbroken. A gap between the bottle and cap is normal for an unopened bottle.
– Remove the cap from the bottle.
– Tilt your head back.
– Squeeze one or two drops inside the lower lid without touching the eye.
– Close your eye.
– Wipe away any excess liquid from the eyes with a clean tissue.
– Always put the cap back on the bottle as soon as you have used it.
– Repeat in the other eye if needed.
The active ingredient is sodium cromoglicate. Each 1ml of eye drops contains 20mg of sodium cromoglicate (2.0% w/v).
The other ingredients are disodium edetate, benzalkonium chloride and water for injections.
Keep out of the sight and reach of children.
Do not use this medicine after the expiry date which is stated on the bottle label and carton.
After first opening the bottle : Do not store above 25◦C. Discard 28 days after first opening.
Use this medicine only in your eyes.
Pollenase Hayfever Relief 2% w/v Eye Drops contain Sodium Cromoglicate. Always read the label.
Do not use if sensitive to any of the ingredients.
Do not use whilst wearing soft contact lenses.